Getting to know PRO Expo – Part 2 with Kent Householder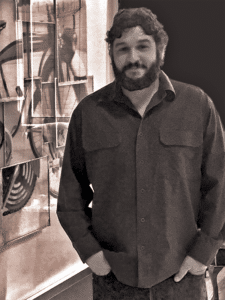 Get to know the team…
Meet PRO Expo's newest Team member, Kent Householder, our featured employee this month. Kent is busy getting to know our current clients, while helping us to build new ones as well. Kent has been getting experience in the many facets of the PRO Expo business from warehouse work to I&D supervision and sales. Check out what drives Kent both in and outside of the office.
What are your passions/hobbies outside of work?
Live music, fishing and kayaking are my passions. I work hard so that I may enjoy my hobbies as often as possible. I believe maintaining a good work/life balance is key to being energized and ready to meet challenges when at work.
How did you get into the trade show business?
I was hired for a two-day job because of my unique skill-set and apparently did well because after that the owner of the company asked me if I would be interested in learning more about the industry.
Favorite Color?
Green, because of how many different shades of green exist in nature everywhere you look in the woods.
Favorite Books?
Lord of the Rings and other Sci-Fi and Fantasy genre in general, because of the escapist nature of getting lost in another world all in your imagination. Also, the writings of Stephen Jay Gould, because of the way he explains scientific theory and history in a relate-able, immense, all-encompassing fashion.
Favorite TV/ Movies?
Westerns – especially the Spaghetti Westerns because of the imagery and amazing soundtracks. The Wire – because no show ever felt more realistic and intense.
Favorite Musicians or Bands?
Widespread Panic, Del McCoury, Jason Isbell, Guy Clark, Townes Van Zandt, Steve Earle, John Prine, The Allman Brothers, Warren Haynes, Meters, Parliament, Dave Rawlings, Gillian Welch, The Grateful Dead, Funky Butt Brass Band, the list goes on and is so hard to narrow down.
Did I mention I LOVE live music? There is no substitute for the energy of a crowd of people all feeling the emotion of the music being played and enjoying it together.
What is your greatest strength?
I am extremely adaptable and able to work in almost any group of people effectively.
What is your biggest weakness?
I sometimes like to do things myself, rather than allowing others to figure things out. I need to be a better teacher/leader and allow others around me to learn.
What words of wisdom or advice would you share with any trade show professional starting out?
Listen carefully! This is a big intricate world of customer service and there is no replacement for learning from those with more experience.
Favorite Social Media Platform?
Instagram – beautiful pictures, that sometimes tell a story, without any agenda or politics.
What job/career would you want if you weren't in the trade show industry?
Fly-fishing guide or event promoter
Mantra or Saying you live by?
Every day above ground is a good day.
---