Staff Insight: Exhibit Entertainment & Fun

Jennifer Bowen is the Show Service Coordinator at PRO Expo Exhibits.
---
Does Exhibit Entertainment Always Need ROI?
---
My heart sinks just a bit anytime a client says they want to do something "fun" to draw people into their booth. I envision crazy antics performed by booth staffers jumping out at attendees, as they are simply minding their own business strolling along the "safe area" of a main aisle, only to be accosted by a crazed booth staffer. Rarely have I heard of exhibit entertainment resulting in any measurable ROI…But does it need to?
It's been engrained in our minds that if you are going to spend money going to a trade show, you need to leave with something to show for it (leads, sales). Maybe there is room on the show floor for work and fun and they could be two separate entities.
When my client came to me last fall, prior to their largest medical show of the year, stating they wanted to have a balloon artist in their booth – and their whole team was behind this idea – I wanted to talk her out of it. What adult wants a balloon zebra with stripes made from a Sharpie? But, as I've done many times before, what the client wants, they get. So I took to Yelp to find a qualified, non-clown, non-scary balloon artist.
Who knew there was such a community of balloon artists? And that they created more than the boring animals you see at a kid's party? I selected a husband and wife team who has a great online gallery (which included adult events) and they were fantastic to work with.
After the show, the client couldn't have been happier. She went on and on about how the booth staff and attendees had so much fun and she wants to do it again in Orlando this year for exhibit entertainment.
---
---
I cannot confirm if this client received any measurable ROI out of this in-booth event, but maybe that doesn't matter. The booth staff and attendees had a great time. Here's why I think this in-booth event was a success:
The client's exhibit staff was behind the idea, and participated during the event.
It was different – how often have you seen balloon artists at a medical show?
It was casual – attendees didn't have to drop a business card, listen to a lecture or sit through a demo. They just had to get in line for a balloon creation of their choice and got a chance to chat with the booth staffers.
The client was able to promote their booth at the show via fun, colorful photos on social media.
During the main show hours, and over the next few days, the client had plenty of other opportunities to generate leads and make sales – from on-site meetings and in-booth demos – they had it covered. This extra event gave everyone some time to kick back and relax. So, next time you are considering an in-booth event, maybe consider something a little out of the ordinary. You might have fun!
PRO Expo also reached out to the balloon vendor, Nifty Balloons for this show on their thoughts of the success:
"Balloons seem to have a magical effect on people. They draw out the childlike joy and wonder that we keep hidden during our day to day life. The convention floor is filled with vendors vying for attention, trying to showcase their products. But at the end of the day, if people don't stop to look, there is no sale. With the simple addition of eye catching balloon accessories, we were able to attract those oh so valuable eyes to the Mediware booth. Not only do the balloons attract attention from those passing by your display, but as our wearable balloon art travels around the convention, word will begin to spread. BEWARE! You will have a line of people at your booth if you bring in the Nifty Balloons team!"
What ideas have you used to put some fun back into your booth experience? We'd love to hear from you!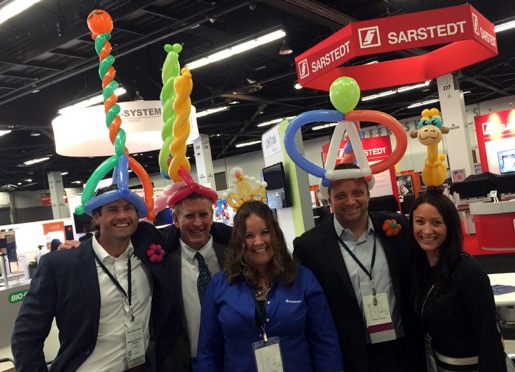 ---