2017 TRENDS – Trade Shows
2017 trade shows will mimic 2015, predicts Kevin Carty and Mel White from Classic Exhibits. Kevin and Mel expect more new builds with a focus on "I want what I want" and less of "I'll get what I need".  If that prediction holds true, we will all benefit.  So what else is in store for 2017 trade shows?
Trade Shows
2017 will show a continuing increase from 2016 in companies managing their own shows. These shows will be branded as events, but in reality they are in-house mini-shows with their companies preferred partners and customers. These events allow companies to define the attendee list and manage what attendees see (and don't see). That's not to say that companies are abandoning their exhibit programs at national shows. Not at all, but adding these events will give a comp a higher ROI for specific product launches, training sessions, or sales events.
Customers are wanting their corporate environments, show floor spaces and events to be consistent, which will cause branding in all spaces to grow. This includes re-purposing graphic messaging or better yet, using parts of their exhibit in their corporate environments during off-show times.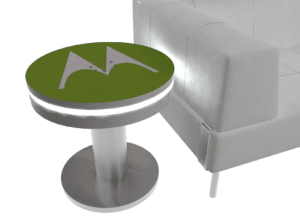 Charging Stations, Lightboxes & Rental Furniture
Charging stations, lightboxes and rental furniture will continue to be hot trends.  Rental exhibits and accessories have been having a 25% sales increase year-over-year for seven straight years.  Expect rentals to continue this climb at the same pace.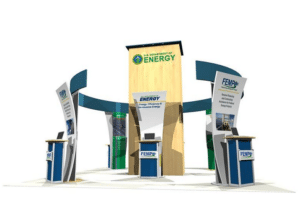 Sustainability
Just like with the color of the year, will see a renewed push for sustainable materials and practices in corporate exhibits and event programs. As trade shows become less wasteful and more Earth-minded, clients will be interested in what their partners can offer when it comes to using sustainable practices in order to help them meet their sustainability goals.
Extrusion
Exhibitors continue to rely on "system" structures like aluminum extrusions to build their properties. Less and less of it is seen via creative graphic applications or integrated custom wood fabrication, cladding, powder-coating, etc, though. Aluminum extrusion sales are increasing… we are just seeing less of it visually.
Education and Technology
Education and technology are becoming ever more important.  You are no longer just going to a show to see the vendors but also to be educated. Besides classes being offered, more in-booth demos are going on and digital-based products are being used. This is leading exhibitors to have smaller digital demos, featuring the newest digital equipment that associations don't show in their training sessions.
While technology is every increasing, the trade show industry is eating it up.  There are more touch technologies, more virtual reality experiences and those events expanded from just one simple experience.  3D printing is allowing smaller models to do the talking, while the actual large product is left at home.
Some information taken from Classic Exhibits 2017 Predictions.
View here  for more information.
---