Getting to know PRO Expo – Part 2 with Krista Kaegbein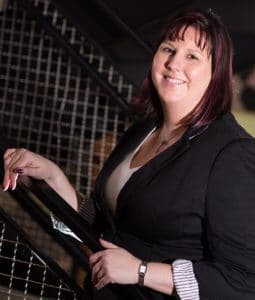 Get to know the team…
PRO Expo's Creative Director, Krista Kaegbein, is this month's featured employee. Krista engages with clients to design their exhibits through structural cad designs and renderings. She also completes all production work in house and designs graphics.  Check out what sparks Krista's creativity both in and out of work.
What are your passions/hobbies outside of work?
I really enjoy the outdoors, although I don't get out in it nearly enough.  I'm always up for a hike.  Living downtown, allows me to walk and enjoy different things that our city has to offer.  We have so many great new restaurants/bars always popping up that are so fun to try. I think my design inspiration can come from anywhere at anytime and this includes within my hobbies.  I love looking at cool architecture, whether it's here in St. Louis or anywhere I travel.
How did you get into the trade show business?
I was working at a patio furniture store, looking for a new position, and I saw an ad on Monster for a Marketing/Sales position.  I thought I already sell patio furniture why not trade show exhibits.  When I was offered the job, they let me try out different parts of the industry to see what I liked best, first one being design & graphics, since that was my background.  I fell in love and never left…
Favorite Color?
Purple. I think I'm reverting back to my childhood days of when everything in my wardrobe was purple.  I have however, upgraded to a darker purple with age.  Seriously though, I love all colors.  I try to pick the right colors for the right circumstances, which I think is important as a designer.
Favorite Books?
I've been obsessed with books since childhood.  Sometimes I think I'm on my way to having my own personal library.  I love to collect architecture, design, art and photography books the most,  although I have several relaxation and meditation books that I enjoy as well.  I also can never pass up a good murder mystery.
Favorite TV/ Movies?
There are so many great tv show's out nowadays and I'm a big fan of the suspenseful, murder ones.  Blindspot is my latest crush.  I can't get over all the work it takes to put a show like that together with all those tattoos.  Chopped and all the house makeover shows are a guilty pleasure of mine as well.
You may never guess this, but when it comes to movies, Shark themed movies are my absolute favorite.  While I like the serious scary ones, I absolutely love the cheesy ones…the cheesier the better!
Favorite Musicians or Bands?
I love almost every genre of music and find that music is mandatory part of my day.  Spotify is my music go to on a daily basis.  If I had to pick one band as my favorite though, it would be Dave Matthews Band.  I have a tradition of seeing them every year with my sister.   We make awesome memories every time we go…It's  something special that we share.
What is your greatest strength?  
Dedication and compassion for my work.  Organized.  Adventurous.
What is your biggest weakness?
Sometimes I get hung up on the details and over think.  I also care too much at times, which can make it hard to take criticism.  I have tendency towards procrastination, when an idea isn't solid.
What words of wisdom or advice would you share with any trade show professional starting out?
There is a lot to learn in the trade show industry, diversify your time and focus your skills.  Be humble and honest and push yourself. Look around and always listen.  The answer is in the details.
Favorite Social Media Platform?
Facebook.  I love seeing what my friends and family are up to, especially when I can't spend time with them on a regular basis
What job/career would you want if you weren't in the trade show industry?
Furniture designer.   My father instilled in me my passion for building things at a young age.  We would always be working on some woodworking project together.  Since then, I have always loved coming up with new, unique looking, functional pieces.   My loft is filled with pieces I designed and built.
Mantra or Saying you live by?
"Form follows function"  If it doesn't function properly, It doesn't matter how pretty it looks…All you focus on then is what doesn't work.
I want to do amazing work for amazing people
Think first, design later. ‒ Ladislav Sutner
---