Summer SetUp: Lighting & Tradeshows
PRO Expo Exhibits is proud to introduce our new 'Summer SetUp' series! 
While enjoying the warmer air and outside events, the fall season is just around the bend -marking a key time for all trade show professionals to strategize.
---
This week's focus is on industry lighting: from essentials to 2015's top trends. Regardless of the size, location, or budget spent an exhibit won't shine without proper lighting considerations.
Lighting often becomes an afterthought in the design process. Quality (and poor) lighting affects an exhibit's overall mood, texture, climate, and space making it something that should not be underestimated. Smart light utilization is crucial to any presentation and can be achieved from any budget.
Back to Basics
Make sure to look at specific exhibit hall regulations when planning for lighting in your booth. Each convention hall has there own rules and regulations that must be adhered to, so it is important that you be aware of the electrical codes, capabilities and constraints for each hall. For example, while some halls allow for the use of any type of clamp light, other halls such in LasVegas do not allow particular halogen lights. Your exhibit company can help educate and keep you abreast of such requirements.
Lighting can either attract or detract potential clients/customers to your booth. Experts say light and motion attract attention. It is important to pick the right type of lighting for the right purpose.
Make sure the lighting chosen reflects your company's brand image, puts focus where you want it, and makes visitors feel comfortable and ready to purchase. Trade show display lighting sets the tone and mood of your whole display, helping you tell your company story and sell your products. Some exhibitors make the mistake of using too much lighting, trying to impress, which takes away from the overall message and branding.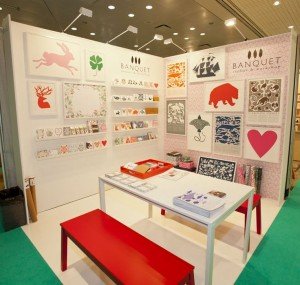 Trend Setting
2015 has thus far been the year of LED's. Not only are they more cost efficient, but they can be adjusted by brightness, color, and shape depending on what type you decide to use. You can even switch out current models for LED's without spending precious time and funds on a re-design! As with the fashion world, the trade-show industry has made a shift to eclectic feminine colors and features that bring a much softer, stylistic tone to the overall feel of an exhibit. Don't be afraid to throw in some curves or bright hues! As an alternative, the rustic approach has also been on the rise this year appealing to the consumer's sense of home and comfort.
It's important to start thinking about lighting designs BEFORE you begin the design process. Consider what functionality your booth lighting needs to have and select something to compliment the overall look of your booth vs. just sticking any 'ol fixture on top. A few minutes of thought this summer will keep you focused in the fall! The best part about all these lighting options remains the variance in price.
Now that the basics are covered, find out how to avoid lighting budget busters!
Want More?
Help make your booth become a showstopper with these following tips via Classic Exhibits:
Artful use of lighting can suggest almost any mood.
A spotlight can be used to a dramatic effect.
Accent lighting will help define and add texture to your products and images.
Sign off below and let us know what lighting types are crucial to your successful show!
---