The Realities of Lighting
Earlier this week our first 'Summer SetUp' series introduced the basics and trends of proper exhibit lighting. While the options may seem endless, the most important aspect of any lighting plan will be reality… aka the budget! Small or large, exceptional lighting can be achieved in almost any budget range if you know where to shine.
Lights, Camera, Options!
Not all lights are created equal. The choice of lighting utilized can make or break your exhibit budget and aesthetic. While having every wall back-lit from top to bottom may look glamorous, you also have to find outlets, wiring, and labor to make it all happen! Cost conscious options include light bars that can be set to a single color and hooked up quickly.As we mentioned earlier, LED's are not only a trending feature for the trade-show industry, but they can also bring a vast array of advantages such as longer shelf life and less power costs. Just remember the old rule, "You get what you pay for". A few more dollars may be wisely spent to ensure greater brightness, shelf-life, and overall safety.
Lighting Labor
After weeks of finding the perfect fixtures, brightness, and placement it's time to implement. Many companies overlook the impact labor and venue plays on exhibit lighting. Are you requesting that the lights be shut off over your booth to further showcase the beautiful luminosity? Some venues say yes, but the in-house lighting systems won't always parallel your exhibit dimensions.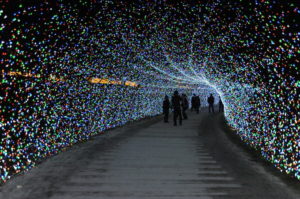 In addition, a major bump in exhibit lighting can come from the installation process. Many venues are restricted by union regulations. I&D crews CANNOT ALWAYS INSTALL the lighting! Typically union electricians will be needed to come in and set fixtures, cables, or just plug everything in. Unfortunately, every city (and in some cases venues) have different policy's and restrictions about who is authorized to make your exhibit shine. For example, Las Vegas requires electricians to perform any work done with lighting, while Orlando allows the exhibitor design crew to complete most of the work.
Check with your exhibitor manual and regulations provided to you before a lighting plan is finalized. This link also has basic labor regulation resources for major markets.
Power Costs… Literally
Outside of buying the proper equipment to express you're artistic vision, budgeting must include the above mentioned labor and cost for keeping everything lit. Electricians can have very strict hours that easily push the work into double time rates, while power outlets can have drastic differences in each location. In some markets, it may be wise to replace lighting options with artistic graphics to stay in budget. The amount of time spent organizing pre-setting and taking down can also add to your hotel, meal, and travel costs! While going 'big' on pre-programmed light walls and many fixtures can help propel your exhibit to stardom, it can also sink your entire yearly budget! Always look into the cost per hour, the amount of outlets needed and how long your exhibit will need power.
While it may seem daunting to properly execute a lighting plan, a little patience, prioritizing, and persistence will keep your booth shining bright and budget under control.
Need More?
---