Pop Up Display Secrets — Direct from the Source
If Only a Pop-Up Display Could Speak . . .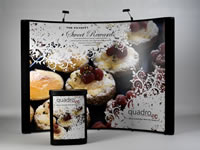 As you can imagine, pop up displays have secrets. Although they usually don't share their stories, they've decided it's about time to reveal them in the hopes of improving the lives of all pop ups. Pop Up Secrets . . . Direct from the Source!
Secret #1: We're Not All the Same
In that sense, we're just like you. We may look similar, but some pop ups are fragile while others are strong. Some are built to withstand years of trade show abuse. Those pop ups get shipped from show to show and assembled by rough inexperienced hands and continue to do our job year after year.
Read More Here:
http://www.classicexhibits.com/trade-show-exhibit-design-search/trade-show-tips/pop-up-display-secrets-57/