Getting to know PRO Expo – Part 2 with Vance Villines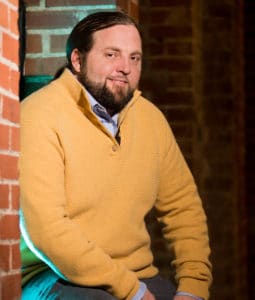 Get to know the team…
This month we feature, Vance Villines, PRO Expo's Exhibit Manager.  Vance ensures all required items for an event/exhibit are included, properly packed and prepared for each show.  He also guarantees that exhibits are properly installed and looking there very best before each show begins.  Read what this "jack of all trades" does when he's not in the warehouse or working on the trade show floor.
What are your passions/hobbies outside of work?
My passions outside of work are spending time with my family and going to see as much live music as I can fit into my busy schedule. I also sit on the board for a non-profit organization that works on cleaning up our city and parks of trash, to help better our planet for future generations.
How did you get into the trade show business?
After becoming friends with Ted Twenter, I began setting up Safety Street for St. Louis Children's Hospital, PRO Expo's client. Soon after taking over management of that job, things snow-balled and I became active in every aspect of the trade show industry. I am constantly learning more about the business every day.
Favorite Color?
I have two favorite colors, the first is green, signifying nature and growth. Red is my second favorite; the color of fire, energy, strength and most importantly St. Louis Cardinals Baseball.
Favorite Books?
My favorite childhood book is "Where the Red Fern Grows". A novel written in 1961 by Wilson Rawls about a boy who buys and trains two Redbone Coonhound hunting dogs.
As an adult, my favorite is "Aztec", by Gary Jennings. It is an extraordinary story of the last and greatest native civilization in North America. It is a fascinating read.
Favorite TV/ Movies?
The Goonies, The Blues Brothers, I really love all of the Star Wars movies and anything by M. Night Shyamalan.
Favorite Musicians or Bands?
I love classic rock, bluegrass, and most importantly jam bands. Some of my favorite bands are Led Zeppelin, Yonder Mountain String Band and first and foremost Widespread Panic. I first saw Widespread Panic when I was 17 years old. Over the last 21 years I have seen them play several hundred times all over the country. Following Widespread Panic has introduced me to more people, places, and things I never imagined would become so important to me. It has truly been a journey of epic proportions.
What is your greatest strength? 
My ability to find similarities between myself and everyone I encounter. I have a very good ability to make friends and influence them to help work with me.
What is your biggest weakness?
I always give others the benefit of the doubt, which leaves me open to letting others take advantage of me. (Though it causes me a lot of hardship sometimes, I will not change this flaw nor do I have any desire to.)
What words of wisdom or advice would you share with any trade show professional starting out?
Always strive for near perfection in everything you do. Never stop looking for ways to improve yourself and your exhibits. Always try and do things better than the guy to your left and right.
Favorite Social Media Platform?
Facebook
What job/career would you want if you weren't in the trade show industry?
The solar business would be my next choice for a career path. I have done well in the past in sales and I would most likely return to it.
Mantra or Saying you live by?
"Show love when love is due and love will shine back down on you!"
---