Getting to know PRO Expo – Part 2 with Sarah Scarfino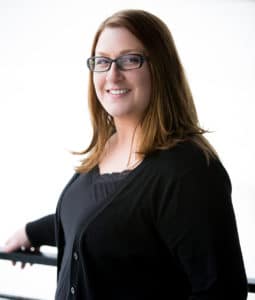 Get to know the team…
This month we feature Sarah Scarfino, PRO Expo's Senior Project Manager, otherwise known as "Girl Friday".   If you have a project, she's your gal.  She manages various projects, at all levels, from beginning to end.  Better than that, she does it with a smile!  Go-getter, Sarah shares what else is important to her, both at work and outside.
What are your passions/hobbies outside of work?
I spend a lot of my time playing with my dog, Harley, going on walks and checking out different parks in the area. I also like taking photos, gardening, cooking, hanging out with my family, working out, Zumba and doing puzzles. The puzzles have to be done fast though before my cats try to use the puzzle pieces as toys! I am trying to find time to get back into painting and drawing more.
How did you get into the trade show business?
I fell into the trade show business like many of us do. I started at PRO Expo Exhibits as an intern right out of college in hopes of getting my foot in the door at an advertising agency, since I went to school for Marketing, Advertising and Graphic Design. The internship did not last long, though, as I was quickly hired on full time as Ted's first employee and I have been here navigating the fast-paced, ever-changing world of trade shows ever since!
Favorite Color?
That is a tough one! I have a couple, but looking at their origin, they were all created from the color blue. Blue can make some great colors and the tints. The shades of those colors are pretty fun and they compliment a lot of things. Plus, my favorite sports team's name is the St. Louis Blues and they have (2) shades of blue in their logo! It also looks good with the St. Louis Cardinals branding!
Favorite Books?
Game of Thrones and The Hunger Games series of books were both really good and really hard to put down.
Favorite TV/ Movies?
TV:
Current – Game of Thrones, Walking Dead, The Big Bang Theory
Past – Sopranos, Dexter, Breaking Bad and Weeds
Movies:  The Avengers movies and all the individual movies for the different characters (Captain America, Iron Man, Thor, Guardians of the Galaxy, etc.)
Favorite Musicians or Bands?
I like oldies because it makes me think of a lot of our good family memories and spending time with my Uncle David, who loves music and taught me a lot about different bands from an early age. I do like a wide variety of music in general but some of my favorites are Frank Sinatra, Van Morrison, Harry Connick Jr., Michael Buble and Dave Matthews Band.
What is your greatest strength?  
My greatest strength is being very detail oriented, always accounting for every little detail and for everything to follow the plan as best as it can. I can wear multiple 'hats', allowing me to jump in, and as a result, help in different areas when the need arises. I understand what needs to be done and how to do it.
What is your biggest weakness?
I think my strength is also my weakness. Sometimes I am too detailed, trying to do everything and help everyone, which can cause delays or communication barriers.  Unfortunately, with this fast-paced industry and everything being last minute, there is not always time to redo something if there is a mistake, so I do my best to avoid these things with good planning and accounting for the all the details.
What words of wisdom or advice would you share with any trade show professional starting out?
I recommend getting a good understanding of all aspects of the trade show business. It is important to understand where every piece of the puzzle fits and why each piece is so important, ultimately allowing for a good final result. Go to shows and be there for the set-up, show and tear-down; you can't truly understand the scale and magnitude of a trade show booth until you have been on the show floor and see what it takes to go from a concrete floor to a large island both filled with different structures, graphics, booth staffers, attendees, etc.
Favorite Social Media Platform?
It is a tie between Instagram and Pinterest. I love taking photos and looking at all the different ways people creatively capture different elements or details of their life on Instagram. Finding new things to do or make on Pinterest is inspiring; collaborating with others on boards or sharing pins with others that you know they will enjoy. I like finding new or unique things to do or make with my family or my four nephews.
What job/career would you want if you weren't in the trade show industry?
Photographer
Mantra or Saying you live by?
Embrace the challenges of life. It is not meant to be easy. Challenges will come your way that will try to break you. It is how you handle those moments and the lessons that you learn that make you stronger and help you cherish all the moments of your life…both good and bad.
---